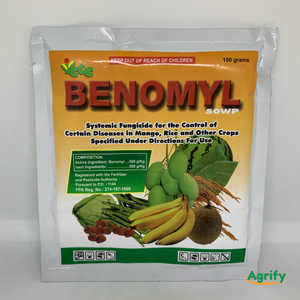 Systemic Fungicide for the control of certain disease in mango, rice and other crops.
Directions for Use: Begin application when disease appears and repat it 10-14 days interval. Use higher rates and shorter interval during humid and rainy weather.
Mixing: Fill up spray tank with water up to half capacity . Add the required amount of Benomyl and stir thoroughly. Fill up spray tank to fulfil capacity and stir again thoroughly before spraying.
Active Ingredient:
Benomyl 500g/kg
Inert Ingredients 500g/kg