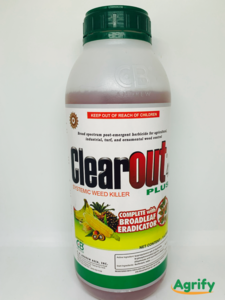 Systemic weed killer
Broad spectrum post-emergent herbicide for agricultural industrial turf, and ornamental weed control.
Directions for Use:
Add one-half the required amount of water to the mixing or spray tank. Add the required amount of clearout 41 plus and mix well before adding the remaining portion of water. For Knapsack Sprayers, it is suggested to mix the solution in a separate container and then fill the knapsack sprayer with the mixed solution.
Early dry season low volume spraying (LVS) of Clearout 4 1 Plus applied at 200 to 400 litres of water per hectare provides best results. When spraying uniformity on tall, dense foliage of cogon or on shorter species such as  mutha, Clearout 1 Plus provides a minimum of 7 months weed control.