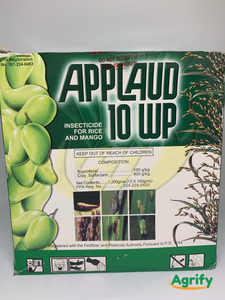 Insecticide for Mango and Rice
Applaud is registered for rice and mango. For best results spray during the beginning of hopper infestation and particularly at the nymph al stage as product is active only at this stage. Full effect will be seen 3-5 days after spraying. Repeat spray when necessary. For rice, use 300L/Ha. Spray volume during the first 30 days after planting and thereafter at 500L/ha. To avoid contact with spray solution or drips use ladder and or improvised pole guide for hose while spraying mango trees.
Crop

Pest Controlled

Dosage

Rice

Brown Planthoppers

Green Leafhoppers

1-2 Tbsp/ 16 L Water

Mango

Hoppers

1-2 Sachets / Drum

(1 Drum= 200 L)
Compatibility:
Compatible with other pesticides.
Re-entry period:
Pre-Harvest intervals:
Do not spry within 7 days of harvest for rice and 15 days for mango.
Active Ingredient
Buprofezin 100g/kg
Clay Surfactant 900g/kg
Directions for use: